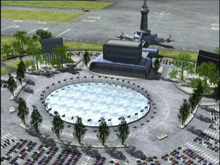 The Airport Station is the terminus of Jubilee's line. It provides direct access to the airport for passengers to fly in and out of the city.
Structure
The airport has a very large car park outside with a roundabout in the centre, adorned with flags of different countries. The station connects to the airport via a staircase which leads to the terminals.
Notable arrivals
Notable arrivals include Hollywood actress Scarlett Redfern and pop star Sam 7. The assistant of Maestro the Magician was due to arrive here as well, but she missed her flight.
Gallery
Merchandise Gallery
Ad blocker interference detected!
Wikia is a free-to-use site that makes money from advertising. We have a modified experience for viewers using ad blockers

Wikia is not accessible if you've made further modifications. Remove the custom ad blocker rule(s) and the page will load as expected.