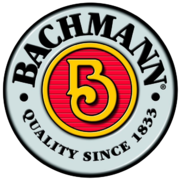 Bachmann Industries is a company based in Hong Kong which specialises in model railway trains and accessories. Up until 2009, the company produced an HO scale Underground Ernie range, which was discontinued after the show went off air.
Trains
International Underground
Visiting Trains
Human Characters
Ernie (normal and dressed as a knight)
Mr Rails (dressed as a dragon)
Alice (dressed as a princess)
Three visitors
Accessories and Scenery
Sets
Circle Electric Train Set
Track Extension Packs A, B, C, D
Trivia
All trains were released with moving eyes.
Paris, Moscow, Sydney and Osaka were planned to be released, but due to the show went off the air they were cancelled.
In the episode Sir Clunkalot which the Mystery Mansion set is based on, Mr Rails says he's dressed as a dragon, yet the packaging claims his outfit to be a crocodile.
Gallery
Trains Gallery
Accessories Gallery
Sets Gallery
Ad blocker interference detected!
Wikia is a free-to-use site that makes money from advertising. We have a modified experience for viewers using ad blockers

Wikia is not accessible if you've made further modifications. Remove the custom ad blocker rule(s) and the page will load as expected.