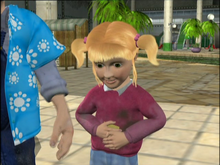 Chloe Jackson is a little girl who travels on the International Underground with her grandmother. She once won a luxury holiday from Mr Chipper.
Persona
Although her family struggle to make ends meet, Chloe is always happy and enjoys spending time with her granny. She holds Mr Rails in high regard when he gave up his golden ticket for her.
Attire
Chloe wears a dirty pink sweater over a white shirt with jeans and a pair of trainers.
Appearances
Gallery
Ad blocker interference detected!
Wikia is a free-to-use site that makes money from advertising. We have a modified experience for viewers using ad blockers

Wikia is not accessible if you've made further modifications. Remove the custom ad blocker rule(s) and the page will load as expected.