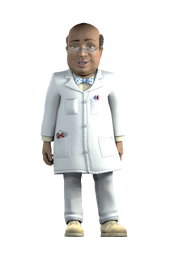 Dr Hart is one of the many doctors working at the hospital on Victoria's line. He is very serious about his job and loves to tell everyone about what the job entails.
Persona
Dr Hart is quite sincere and likes to get his job done, but he does enjoy a bit of light-hearted fun every now and again. He enjoys visiting the funfair on his days off. As well as treating ill patients, he teaches medical students at the hospital using a plastic skeleton he's nicknamed "Fred". He cares about the patient's wellbeing very much, and has thrown parties for the children's ward and played music for all the other patients in order to keep them happy.
Attire
Dr Hart wears grey trousers and a yellow shirt with a pink polka-dotted bowtie, which is usually covered by his doctor's jacket. He wears beige shoes and square rimmed glasses.
Trivia
In some books and promotional material, his last name is spelled as Heart.
Appearances
Series 1 - Mr Rails Never Fails, Caught Purple Handed (mentioned), Ernie's Big Trip, Cover Story, Summer Breeze, Monster Mystery, A Change Is As Good As A Rest, Elementary, My Dear Bakerloo!, Snow Go
Gallery