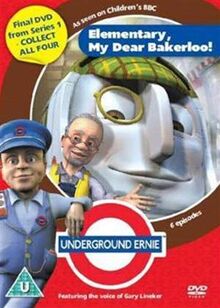 Elementary, My Dear Bakerloo! is a DVD containing 6 episodes from the first season. It was released on June 16 2008 and is the last DVD release to date.
Description
Hop on board for 6 fun-packed episodes from Ernie and his pals. With 72 minutes of amazing adventures from International Underground including:
Episodes
Trivia
This DVD came with a pamphlet detailing the merchandise range, which offered a 10% discount for anything bought on the online store.
Gallery
Ad blocker interference detected!
Wikia is a free-to-use site that makes money from advertising. We have a modified experience for viewers using ad blockers

Wikia is not accessible if you've made further modifications. Remove the custom ad blocker rule(s) and the page will load as expected.