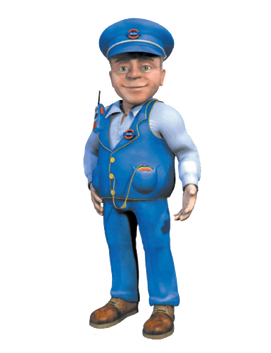 The eponymous Underground Ernie is the jolly, kind-hearted supervisor of International Underground and the main character of the series. The public can rely on Ernie as he comes from a long line of underground supervisors.
Persona
The caring guardian of the Underground, Ernie loves getting his job done but is serious and stern when he needs to be. He is particularly good friends with Millie and Mr Rails and the trains look up to him when they have a problem. Ernie loves getting to work in the morning, as he believes early risers have more fun.
Attire
Ernie wears a blue hat with his name badge on it. He wears a blue waistcoat fitted with a radio and pocket-watch over a light blue shirt and blue trousers. He wears brown shoes.
Appearances
Series 1 - Pop Decoy, Sir Clunkalot, Mr Rails Never Fails, Brooklyn and Rocky Two-Shoes, Pulling Together, Caught Purple Handed, Ernie's Big Trip, Finders Keepers, The Magician's Assistant, Cover Story, Millie's Dream Day, Mr Movie Jones, Summer Breeze, Running Late, Light At The End Of The Tunnel, The Wreck Of Sea Shell Bay, Catnapped, Monster Mystery, Bon Appetit, A Change Is As Good As A Rest, Elementary, My Dear Bakerloo!, The Magic Lamp, How Great The Art, The Mayor's Visit, Techno Trouble, Snow Go
Gallery
Merchandise Gallery