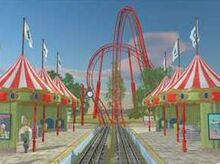 The funfair is located at the end of Hammersmith and City's line. The twins' favourite part about this station is going around the loop-de-loop!
Structure
The station acts as the entrance to the funfair, with turnstiles and ticket machines in operation on both platforms. The roofs of the platform are painted in red and white with flags waving at the top.
Attractions
There are many attractions at the funfair, among them are the loop-de-loop, the tilt-a-whirl, a roller coaster and many other smaller attractions.
Gallery
Ad blocker interference detected!
Wikia is a free-to-use site that makes money from advertising. We have a modified experience for viewers using ad blockers

Wikia is not accessible if you've made further modifications. Remove the custom ad blocker rule(s) and the page will load as expected.