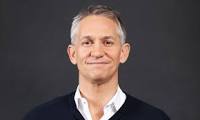 Gary Lineker is the ex-captain of the England football team and current Match of the Day presenter. He voices the titular character, Ernie.
On his role as Ernie
"Ernie is just great, there's nothing like it on TV - it's modern, fast and fun and is one of the few kids' programmes to have an international aspect with trains like Osaka, and an ace website. I'm really thrilled to be the voice of Ernie - of course it helps that he's a good looking young man who always saves the day!...I've got 4 children and my youngest is 8 - he loves it and he's a pretty tough judge!"
"I'd never done that sort of voiceover work before and it was a fantastic experience. I just can't wait for the train set."
Trivia
Underground Ernie was Gary's first voiceover job.
Gallery
Ad blocker interference detected!
Wikia is a free-to-use site that makes money from advertising. We have a modified experience for viewers using ad blockers

Wikia is not accessible if you've made further modifications. Remove the custom ad blocker rule(s) and the page will load as expected.