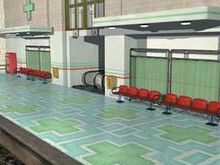 The hospital is a station on Victoria's line. The doctors working here provide treatment and support for ill people. Dr Hart works here.
Structure
The hospital is accessed via an escalator. The platform is structured very much like a hospital waiting room, with curtains dividing the seats from the building. There is a vending machine at the end of the platform.
Gallery
Ad blocker interference detected!
Wikia is a free-to-use site that makes money from advertising. We have a modified experience for viewers using ad blockers

Wikia is not accessible if you've made further modifications. Remove the custom ad blocker rule(s) and the page will load as expected.