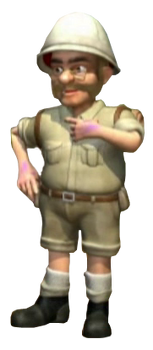 Ivor Leaf is a famous albeit absent-minded explorer. Places he have explored include the Amazon jungle and Sprout's Organic Farm.
Persona
Well-meaning but absent minded, the eccentric Ivor Leaf loves to explore. Among his discoveries are the purple tea-time tree, a long-tailed Siberian nut eater, (a squirrel) a South American squiggle snake (a worm) and some very rare flowers. (buttercups)
Attire
Ivor wears a beige explorer's suit with a brown belt and black boots. He dons a pith helmt and glasses on his head.
Appearances
Series 1 - Caught Purple Handed
Gallery