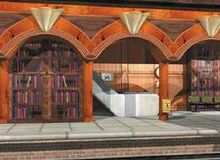 The library is a station located on Bakerloo's line. Books, newspapers and some music is available for use and borrowing by passengers travelling on the line.
Structure
The actual library is located up an escalator, but on the platforms there are bookshelves between the arches with books for passengers to read while waiting for trains to arrive.
Gallery
Ad blocker interference detected!
Wikia is a free-to-use site that makes money from advertising. We have a modified experience for viewers using ad blockers

Wikia is not accessible if you've made further modifications. Remove the custom ad blocker rule(s) and the page will load as expected.