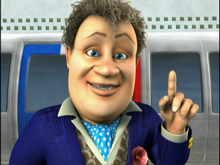 Marcel Le Magnifique is a famous French chef extraodinaire who adores food. He owns several restaurants over in France.
Persona
Marcel is an eccentric man, with an extreme passion for all things food. He is easily impressed, and believes Millie's cooking and Farmer Sprout's vegetables to be good enough to sell in his restaurants. He also hosts cookery programmes on TV, which Jubilee is a fan of.
Attire
Marcel wears a purple jacket over a green and blue patterned shirt, with a blue and white polka-dotted scarf round his neck. He wears a flower on one of his lapels and grey trousers, with black shoes and spats.
Trivia
He bears a striking resemblance to broadcaster Jeremy Clarkson.
Appearances
Gallery
Ad blocker interference detected!
Wikia is a free-to-use site that makes money from advertising. We have a modified experience for viewers using ad blockers

Wikia is not accessible if you've made further modifications. Remove the custom ad blocker rule(s) and the page will load as expected.