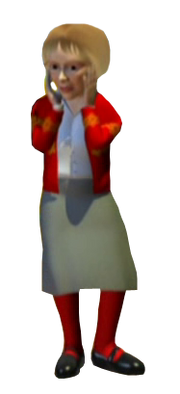 Miss Inkpen
is the long-suffering teacher at the
school,
where she teaches students all the subjects on the curriculum.
Persona
Put-upon but caring, Miss Inkpen tries her best to keep her class under control, but struggles with the especially disruptive ones. Even though she regards some of them as trouble, she deeply cares for her students and wants the best for them. She also does her best to look after them on school trips.
Attire
She wears a red cardigan over a white blouse, with a beige skirt and red tights. Her shoes of choice are a pair of T-bars.
Appearances
Series 1 - Ernie's Big Trip (cameo), The Wreck Of Sea Shell Bay
Gallery
Ad blocker interference detected!
Wikia is a free-to-use site that makes money from advertising. We have a modified experience for viewers using ad blockers

Wikia is not accessible if you've made further modifications. Remove the custom ad blocker rule(s) and the page will load as expected.