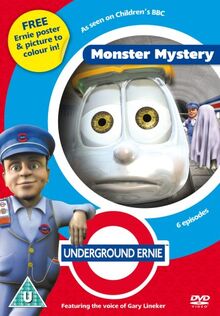 Monster Mystery is a DVD featuring 6 episodes from the first season. It was released on November 26 2007.
Description
Hop on board for 6 fun-packed episodes from Ernie and his pals. With 72 minutes of amazing adventures from International Underground including:
Episodes
Goofs
The Wreck Of Sea Shell Bay is incorrectly listed as The Wreck at Seashell Bay.
Pulling Together is misspelled as Pulling Togther.
A picture of Circle from Cover Story is featured on the back cover, but that episode isn't on this release.
Gallery
Ad blocker interference detected!
Wikia is a free-to-use site that makes money from advertising. We have a modified experience for viewers using ad blockers

Wikia is not accessible if you've made further modifications. Remove the custom ad blocker rule(s) and the page will load as expected.