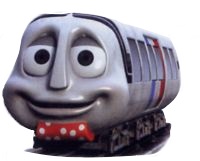 Paris is a visiting train named after the capital city of the same name from France. He is very strict when it comes to his passengers, but he means well. Thanks to Paris, Ernie's beginning to learn a few words in French!
Persona
Paris is snooty but well-meaning. Running on time is very important to Paris. He likes a tidy carriage too, so he always reminds his passengers to take their belongings with them.
Livery
Paris is painted silver with black lining. His doors are painted in the colours of the French flag. He also sports a red bow-tie with polka-dots.
Trivia
Appearances
Series 1 - Ernie's Big Trip, The Magician's Assistant, Bon Appetit
Gallery
Merchandise Gallery
Ad blocker interference detected!
Wikia is a free-to-use site that makes money from advertising. We have a modified experience for viewers using ad blockers

Wikia is not accessible if you've made further modifications. Remove the custom ad blocker rule(s) and the page will load as expected.