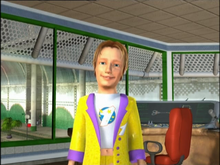 Sam 7 is a pop sensation who once performed at the theatre. His best known single is Rather Do.
Persona
Like any pop stars, Sam 7 likes to keep a low profile when out in public. On one occasion his cover was blown and he had to wear a disguise in order to get to his hotel room. He's quite forgiving of others' mistakes and is good friends with the Underground Entertainer.
Attire
He wears a bright yellow suit with pink cuffs and lapels over a t-shirt with his logo on it. He sometimes wears a cap in the same colour scheme. His shoes are grey and white.
Appearances
Series 1 - Pop Decoy, Elementary, My Dear Bakerloo! (cameo)
Gallery
Ad blocker interference detected!
Wikia is a free-to-use site that makes money from advertising. We have a modified experience for viewers using ad blockers

Wikia is not accessible if you've made further modifications. Remove the custom ad blocker rule(s) and the page will load as expected.