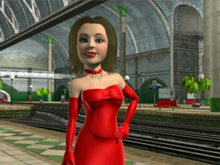 Scarlett Redfern is an American actress, famous for her many starring roles and good looks.
Persona
Scarlett is a very caring person who always donates to various charities. She loves animals especially. Her favourite colour is red, as her name and dress sense implies. She also holds an appreciation for all kinds of art.
Attire
Scarlett wears a red dress and gloves, as well as a red necklace.
Appearances
Series 1 - Elementary, My Dear Bakerloo!
Gallery
Ad blocker interference detected!
Wikia is a free-to-use site that makes money from advertising. We have a modified experience for viewers using ad blockers

Wikia is not accessible if you've made further modifications. Remove the custom ad blocker rule(s) and the page will load as expected.