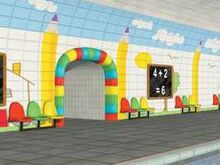 The school is a station on Hammersmith and City's line. Children are sent here to be educated and learn life skills. Sam and Dan are pupils here, and Miss Inkpen is their teacher.
Structure
The school is accessed through an arched doorway, while the walls are painted in bright colours that symbolise learning. There are also drawings of trees, pencils and houses on the walls as well as a blackboard.
Gallery
Ad blocker interference detected!
Wikia is a free-to-use site that makes money from advertising. We have a modified experience for viewers using ad blockers

Wikia is not accessible if you've made further modifications. Remove the custom ad blocker rule(s) and the page will load as expected.