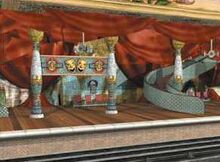 The Grand Theatre Station is located on Victoria's line. It is the first stop on her line and has played host to many talented performers over the years.
Structure
The architecture of the station is very grand, with red and white pillars adorning the corners of the platforms, surrounded by red theatre curtains and grand staircases. The sign for the platform is represented by the universally known Aristotelian faces of dramatic art.
History
The theatre has played host to several plays and performances, most notably French magician Maestro and pop star Sam 7. Several acting troupes perform there regularly, some of whom Victoria is deeply fond of. They perform numerous plays as well as pantomimes such as Aladdin and the Magic Lamp, which once caused chaos on the Underground when one of the props for that production was misplaced!
Gallery
Ad blocker interference detected!
Wikia is a free-to-use site that makes money from advertising. We have a modified experience for viewers using ad blockers

Wikia is not accessible if you've made further modifications. Remove the custom ad blocker rule(s) and the page will load as expected.