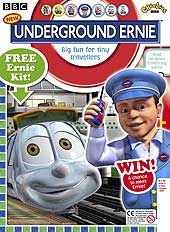 The Underground Ernie Magazine was a magazine series released every four weeks starting from April 4th 2007. It was priced at £1.75 per issue and was discontinued after the show went off air. The tagline for the magazine was "Big fun for tiny travellers"
Features
Each issue featured a range of puzzles and colouring pages, as well as stories and guides for things to make and do.
Free gifts
There were a choice of five gifts for each magazine. These five gifts would be in included on some editions which were Jubilee, Hammersmith, Victoria, Circle and Bakerloo toys. These toys were refered as "Whizzy Trains".
Trivia
A sample issue of the magazine was included with copies of Summer Breeze ordered from the online Underground Ernie shop.
Gallery
Ad blocker interference detected!
Wikia is a free-to-use site that makes money from advertising. We have a modified experience for viewers using ad blockers

Wikia is not accessible if you've made further modifications. Remove the custom ad blocker rule(s) and the page will load as expected.